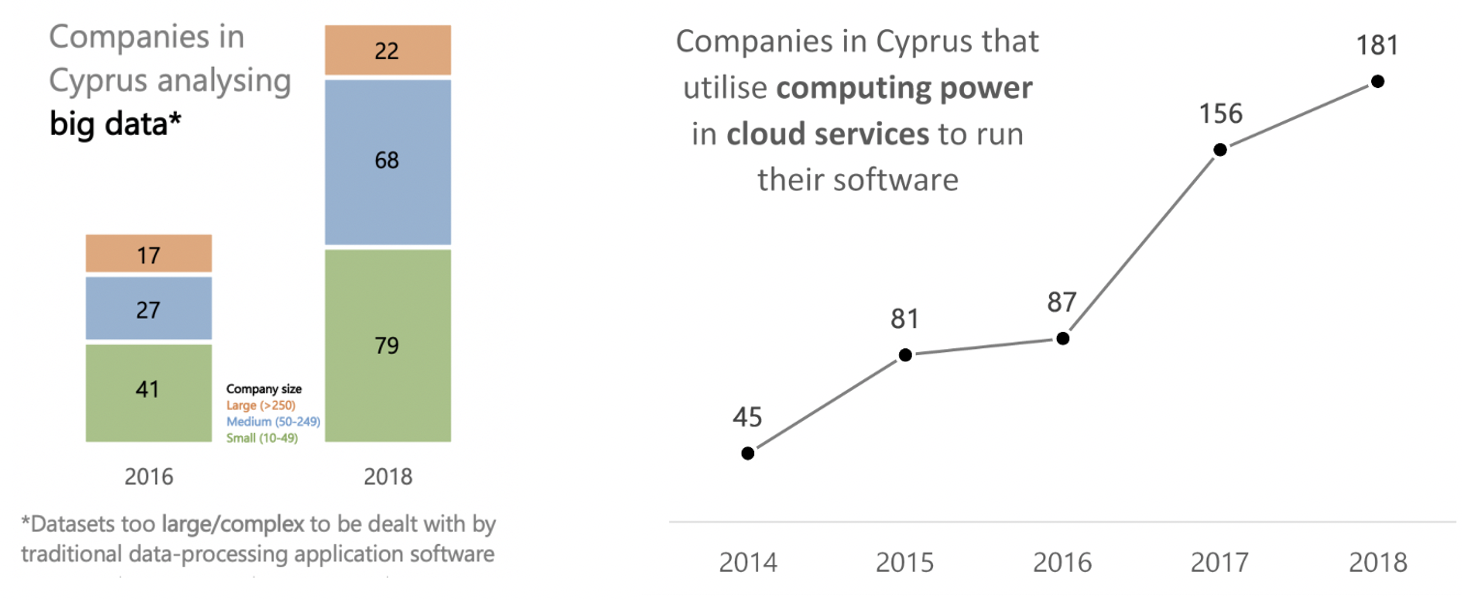 The companies involved in data-driven activities and engineering design are usually hungry for computing resources to perform their advanced data analytics or simulations. An increasing number of companies in Cyprus analyse big data and resort to cloud service providers to meet the need of their workflows. The above figures from the Cyprus statistical service (CyStat) clearly show this trend.
The Management and Innovation Office (MIO) will create strong links with these companies and enable them to access the computing infrastructure of the centre, offering state-of-the-art expertise to experiment with computing technologies and methodologies.
The added value comes by enabling these companies to use HPC infrastructure without the associated upfront financial investments, thereby enhancing their ability to stay ahead of their competition.
Innovation actions
The MIO will identify industrial collaborators, build long-lasting relationships with them and plan collaborative projects. A set of innovation actions to engage with these companies are under development. Their needs can be split into three main areas:
Infrastructure access

Services and training provision

Development of a skilled workforce
Training programs
We will facilitate knowledge transfer from the centre to industrial collaborators by providing training to industrial partners in a variety of fields, according to their needs. The computational scientists have expertise in a variety of fields, ranging from advanced simulations to artificial intelligence.
Industry weeks
The MIO actively scouts the industrial landscape in Cyprus, creates links with industries and identifies industrial research projects.
The following is the current plan for annual week-long events or "industry weeks" where representatives from industry, graduate students and researchers from CaSToRC will come together to share ideas and produce tangible first results towards addressing the challenges set.

Co-supervision with industry
After the identification of collaborative projects with industrial partners, PhD students will be involved in a co-supervision program, implementing these projects.
National role
Collaboration with engineering departments at local universities and the introduction of advanced computation and data science to engineering applications in academia and industry will provide advanced computing infrastructure and knowhow.